The Institute of Automotive Engineering Stuttgart (IFS) consits of the following chairs:
In cooperation with the FKFS, the IFS offers the lecture series "Automotive technology leaders present", where leading companies from the automotive industry introduce themselves.
Institute of Automotive Engineering
Pfaffenwaldring 12
70569 Stuttgart
The IFS is conveniently located on the outskirts of Stuttgart, directly on the university campus.
Vaihingen.
Contacts
Prof. Dr.-Ing.
Michael Bargende
Holder of the Chair of Vehicle Drives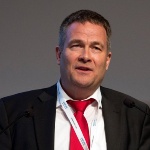 Prof. Dr.-Ing.
Hans-Christian Reuss
Holder of the Chair of Automotive Mechatronics
Prof. Dr.-Ing.
Andreas Wagner
Holder of the Chair of Automotive Engineering- Managing Director IFS